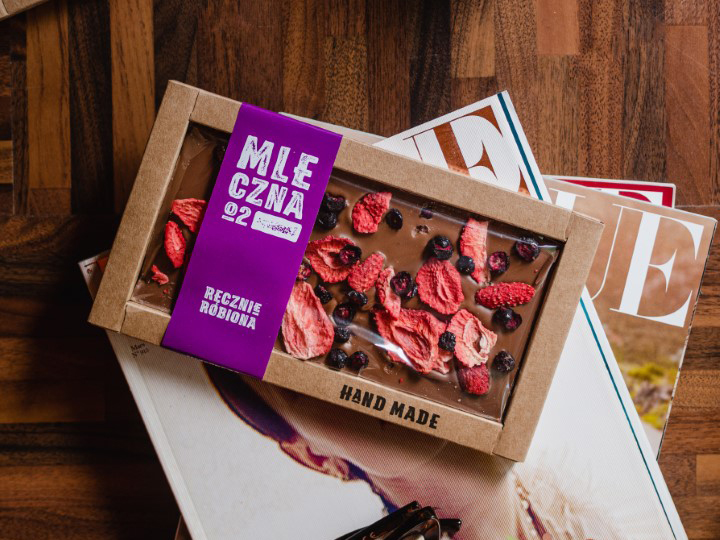 Combining traditional family recipes with modern technology is the specialty of the Cukiernia Staropolska, which has been operating in Lublin since 1997. The wide range of products created with passion and love for tradition has just been expanded with original, hand-made chocolates.
Creating a chocolate factory was a laborious and long process – says Tomasz Machoń, a confectioner and owner of ChocoLu. Handmade chocolates are characterized by exceptional delicacy, perfect consistency and excellent finish as well as finesse of flavors. The irreplaceable precision of human hands, patience and time are able to bring out the most exceptional and unique taste qualities of chocolate. You can feel the effect of the whole process in every piece of chocolate.
The process of creating chocolate consists of several stages, but the most important of them are the appropriate selection of high-quality ingredients, conching and tempering. The basis of the perfect ChocoLu brand chocolate is a selection of the best chocolate couvertures appreciated by confectioners, made of high-quality cocoa beans from South America and Africa. The appropriate base, enhanced with unique ingredients, is being manufacured in a long-lasting process of kneading and refinement to bring out the best texture, aroma and taste from it. Conching can take up to 3 days! Then follows the tempering process, i.e. the alternate heating and cooling of the chocolate mass at precisely defined temperatures. Thanks to this, the chocolate becomes stable, shiny and does not melt quickly in the hand. After the chocolate has tempered, it is poured into molds on which selected ingredients for each chocolu product are added. Cooled chocolates go to original packaging, in which they are delivered to customers' hands.
Every chocolate lover will find something for themselves in the offer of the ChocoLu. The brand produces traditional chocolate bars in four versions – milk chocolate, dark chocolate, white chocolate and chocolate with a high cocoa mass content. The brand also meets the needs of diabetics and people who care about their physical condition – the manufacture produces chocolate without sugar, protein chocolates and BIO chocolate! In addition to ordinary bars, ChocoLu also produces original chocolate in the form of broken pieces called ŁAM-ANA. ChocoLu also has a premium Miiau and RUBY line and hand-made pralines.
The variety and high quality of ingredients combined with passion, commitment and patience is the best recipe for the perfect chocolate that everyone will appreciate!ChocoLu chocolate manufactory is the essence of the unique taste and guarantees unforgettable taste sensations.